User Guide
Finding a Fund Analyst Report
Example: To evaluate BlackRock Balanced, begin typing the name or the ticker (MACPX) in the upper left search box, then select the fund.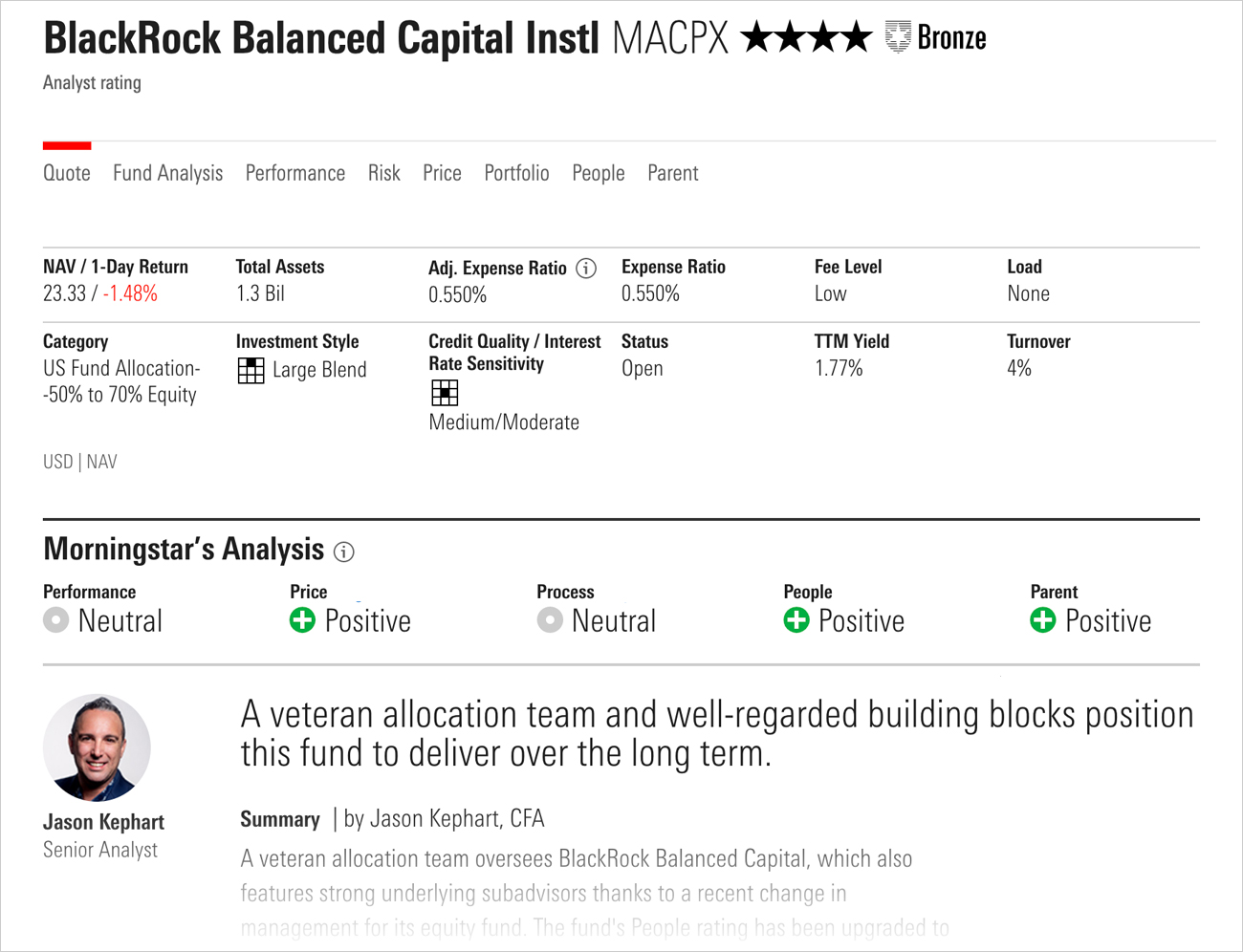 On the fund's quote page, the following tabs are available:
Quote: Details the fund's category, assets, NAV, load information, fees, yield, status, expense ratio, adj.expense ratio, turnover, Morningstar style box, minimum purchase, snapshot of Morningstar's Analysis/analyst report, view report archive, growth of 10,000.
Fund Analysis (Morningstar Premium feature): A comprehensive review of the fund by a Morningstar analyst.
Performance: Growth of $10,000 chart and explanation of total returns and trailing returns.
Risk: contains Morningstar Risk & Return (3-Yr, 5-Yr, 10-Yr), risk & volatility measures, risk/return analysis, market volatility measures.
Price: Sales fees, ongoing fee level, cost illustration (10k; 5% Return; USD), historical expense ratio %, other fees, taxes.
Portfolio: Asset allocation, stock style, factor profiles, style measures, exposure, financial metrics, sustainability rating, Morningstar carbon metrics, top 10 holdings.
People: Inception date, number of managers, average tenure, advisor(s), management team.
Parent: Firm name, market, total net assets, fund flows (TTM), asset growth Rt(TTM), # of funds, manager retention rate (5years), fund flows chart, rating breakdown.