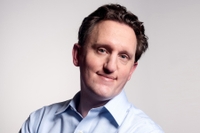 Stephen Ellis
Stephen Ellis is an energy and utilities strategist for Morningstar Research Services LLC, a wholly owned subsidiary of Morningstar, Inc., covering midstream companies. Ellis is a former member of Morningstar's China Economic Committee, which provides research on the long-term outlook for the Chinese economy.
Before assuming his current role in 2017, he was director of equity research for financial services and a senior equity analyst. He is also a former editor of the Morningstar Opportunistic Investor newsletter and a former member of the Economic Moat Committee, a group of senior members of the equity research team responsible for reviewing all Economic MoatTM and Moat TrendTM ratings issued by Morningstar.
Prior to joining Morningstar in 2007, he worked as a freelance analyst for The Motley Fool and spent three years working in project and financial analysis for Environmental Systems Research Institute (ESRI), a supplier of geographic information system software and geodatabase management applications.
He holds a bachelor's degree in business administration and a master's degree in business administration from the University of Redlands.